Aesthetics
While skin rejuvenation is the goal with aesthetic medicine, Dr. Wilkerson is also able to treat your internal health to maximize your aesthetic results. Her multi-faceted approach of nutrition, hormone balancing and aesthetic medicine is unique and provides a level of service not normally included with aesthetic treatments. All aesthetic treatments in our office are performed by a doctor for your comfort and the best results.
Broadband Light (BBL) - Forever Young
Broadband Light (BBL) - Forever Clear
Laser Peels
Laser Resurfacing
Medical Chemical Peels
Laser Hair Removal
Getting Started
The easiest way to get started is to schedule an aesthetics consultation. In this $99 consultation you will review your aesthetic goals with Dr. Wilkerson and what treatments are most appropriate for your skin type and desired results. And the best part is that if you decide to move forward we apply the $99 to your first treatment (must be within 60 days of your consult).
Broadband Light (BBL)
BBL is an innovative technology that sets new standards for skin conditions associated with aging, active life-styles, and sun damage. BBL energy allows your physician to precisely treat age and sun spots, small facial veins, and many other skin conditions. Your treatment will be tailored to match your skin type and your desired results.
Light energy delivered by the BBL will gently heat the upper layers of your skin. The heat absorbed by the targeted areas will stimulate your skin cells to regenerate new collagen. This process will restore your skin to its natural beauty, blending its natural colors and making it smoother, vibrant and younger looking. In addition, the photothermal energy will eliminate fine vessels that cause redness and reduce unwanted melanin that produces pigmented lesions.
Sciton Laser Peels
As we age, the effects of sun damage and environmental pollutants take their toll on our skin, creating wrinkles and pigment irregularities, especially on our faces. A Laser Peel can be very successful at reducing or eliminating these conditions, and in fact it is the best way to address the problematic lines that occur around the mouth and eyes. Though there are several different types of lasers used to perform peels, the Contour TRL is widely regarded as the safest, most effective laser available.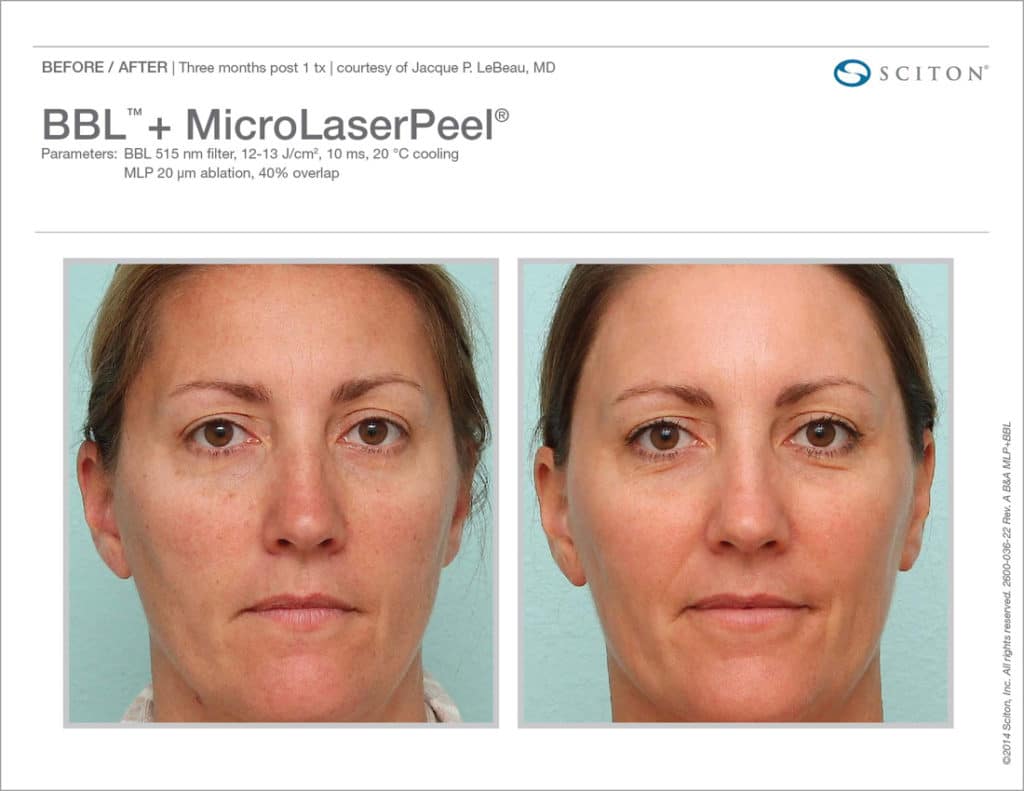 Platelet Rich Plasma (PRP) for Hair Restoration
PRP (Platelet-rich plasma) is a highly concentrated form of special components in the bloodstream. It carries essential proteins and growth factors (PRP is known to carry more than 20 growth factors!), which encourage healing, inspire collagen formation, and stimulate natural hair growth. PRP has been used for quite some time in orthopedic medicine, cosmetic medicine and sports medicine; however it's a relatively new game-changer on the scene as a natural and non-invasive method to treat hair loss, otherwise known as alopecia. The success of PRP hair restoration today is most specifically geared towards treating a particular type of hair loss and hair thinning, called androgenic alopecia.