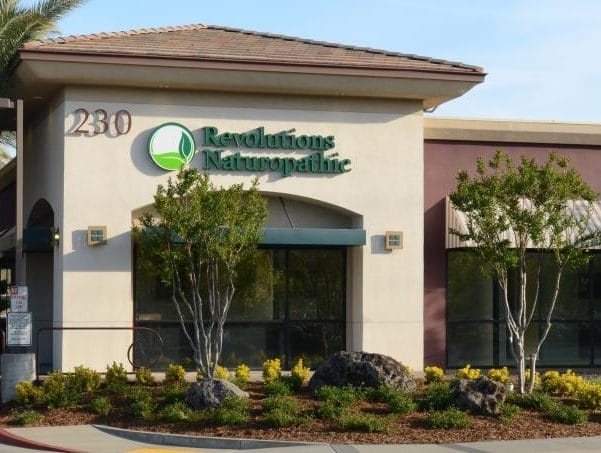 Our Approach
Revolutions Naturopathic believes in a lasting doctor-patient relationship that inspires individuals to take charge of their health.
Our Story
Revolutions Naturopathic was founded in 2008 to meet the demand for more natural, patient centered health care. Our practice has continued to grow primarily through word of mouth referrals from happy patients and other health care providers that trust in our approach.  We expanded in Folsom in 2014 and opened a second location in Roseville in 2017 to better serve our patients.
Meet the Team
When you are a patient at Revolutions, you have access to the entire team of naturopathic doctors. They often work collaboratively to ensure the best treatment plan for you.
Dr. Raithel focuses on giving you back your health, making you feel younger, and more energetic while taking as little away from your necessary day to day lives as possible.
Dr. Brinkley has a special passion for working with women and children. She has always been fascinated by the intricacies of the human body, especially the female reproductive system.
As a primary care doctor, Dr. Peronel is able to take care of many needs and provide patients with options for their health. She has experience treating many health conditions of an acute and chronic nature.
Dr. Alberts specializes in bioidentical hormone replacement (BHRT) for both men & women. Each patient is treated individually and is often prescribed a combination of nutritional supplements, herbs, nutritional and lifestyle counseling, and bioidentical hormones.
Dr. Kunkle has a diverse skill set including (but not limited to): lyme/infectious disease, autoimmunity, environmental medicine, pain management, hormone regulation, metabolic/weight loss optimization neuropsychiatric conditions.
Dr. Mathewson has a passion for regenerative and aesthetic medicine. Prior to medical school, Dr. Mathewson had a successful career in academic research, working in the fields of: genetics, immunology, microbiology, pathology and reproduction.
Meet with a Doctor
The easiest way to get started is to schedule a free 15 minute coordination meeting to discuss what lab tests will help meet your health goals and whether we can run these tests through your insurance provider.